CHALLENGES AND PROBLEM IN PRIMARY HEALTH CARE IN GEORGIA
Keywords:
FAMILY DOCTOR, PRIMARY HEALTHCARE, GEORGIA
Abstract
Primary health care has an important role in the organizational arrangement of health care system. Without a fundament of primary health care system it is impossible to build anything. The primary health care system reflects on the quality population health, the availability of health services and the cost of spending on the health care. The family doctor›s institute and primary health care system in Georgia have not been developed with regarding international standards. The lack of primary care system in Georgia indicates that the referral to outpatient medical facilities is considerably lower than the European countries. The reason for this is the lack of confidence in primary care institutions and the absence of comprehencive primary health care system in the country. It is nessesery to develop a family doctor›s institute in Georgia. This requires the promotion of continuous medical education of family doctors, optimal geographical distribution of primary health care institutions.
Downloads
Download data is not yet available.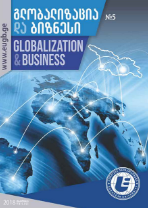 Downloads