TOURISM SECTOR AND ITS IMPACT MODELS FOR EVALUATING REGION'S ECONOMICS
Keywords:
TOURISM, REGIONAL ECONOMICS, ECONOMIC IMPACT MODEL
Abstract
Tourism plays an important role in human life and in the world economy. It is developing very rapidly and is one of the most profitable spheres in business.
The development of the tourism industry in small countries is of great importance. It contributes to the peaceful development of the country, creating jobs and increasing income.
Researchers often have to study and evaluate the individual sectors and how they impact on region's economy. 
The interest in assessing tourism in economics is very high and important.
The influence of tourism on economics are often evaluated by economic impact models, such as Capacity Utilization Model-CUM, regional economic model-REMI, and Impact analysis for planning-IMPLAN. The use of such a model is of great importance to small countries, as the more becomes to study the development of the sector, the relationship between the economic sectors is revealed better, and it is easier to assess the changes in the economy.
Downloads
Download data is not yet available.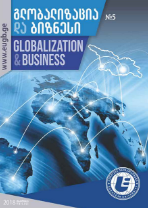 Downloads