THE ROLE OF FINANCIAL TECHNOLOGIES IN THE DEVELOPMENT OF THE BANKING SECTOR
Keywords:
FINANCIAL TECHNOLOGIES, FINANCIAL ORGANIZATION, FINTECH, BANKING TECHNOLOGIES, INNOVATIVE START-UP
Abstract
The development of technologies have had a huge impact on the financial sector. The term "Fintech" has emerged by merging finance and technology, which implies start-ups that use advanced technologies in financial services. On the one hand, advanced technologies facilitate and simplify the implementation of various operations and activities, but, on the other hand, pose a real threat to the conservative banking sector.
The main goal of the introduction and development of financial technologies in the banking sector is to save time, accuracy and high quality of protection.
As in the whole world, today Fintech is successfully developing in Georgia. It helps to attract investments and makes banking services more accessible, comfortable and flexible.
The purpose of the study is to determine the role and importance of financial technologies in the development of the banking sector. The theoretical basis of the research is the experience of Georgia and foreign countries, theories and proposals of scientists-economists and practitioners.
The article discusses the importance of introducing financial technologies to improve the competitiveness of banks, as well as the prospects for the development of the banking sector in the context of modern financial technologies.
Downloads
Download data is not yet available.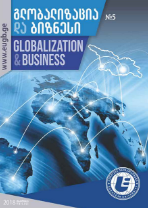 Downloads