GEORGIAN CONSUMERS' BEHAVIOR IN TOURISM AND MARKET SEGMENTATION VALS SYSTEM
Keywords:
CONSUMER BEHAVIOR, VALS SYSTEM, DOMESTIC AND INTERNATIONAL TOURISM
Abstract
The aim of the article is to identify Georgian consumer behavior characteristics and touristic motivators in case of both inbound and outbound travel. We tried to create simple tourist typology base on VALS segmentation system and summarize main internal and external motivators and factors influencing tourist's behavior and decision making. According to the research results Georgian residents belong to consumers, who are driven by external motivators and factors. 
Georgians have good possibilities to travel in Georgia as its various natural and cultural resources give good opportunities to develop different tourism products. During recent years, domestic trips have been decreasing because of reasonable prices offered by competitive countries and existing Free Visa Regimes with EU and other countries.
Downloads
Download data is not yet available.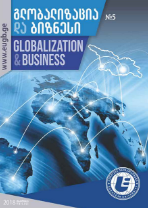 Downloads