PROCEDURAL ISSUES FOR DRAWING AND SUBMITTING MANAGEMENT REPORTS
Keywords:
MANAGEMENT REPORTS, ACCOUNTING, IFRS
Abstract
In accordance with the international practice, procedures for preparing and submitting reporting on governance reporting and payments made to the state are introduced.
The mandatory structure of governance reporting is not established. However, the law defines the component reporting component and defines the list of information that is obligatory in each component. It is recommended that the management report only contains the information that will be essential for the reporting users.
Based on the experience of developed states, we can think that the preparation and the publicity of the management report will positively affect the company's sustainability and improvement of financial and non­financial indicators. It should also be taken into consideration that the disclosure of the governance information does not hinder the commercial secrets of business.
Downloads
Download data is not yet available.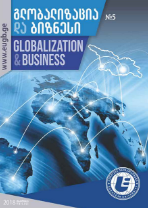 Downloads