PREDICTING OF ENTERPRISE'S FINANCIAL STABILITY BY SIMULATION MODELS
Keywords:
FINSIM-PRO2018, FINANCIAL STATEMENT ANALYSIS, MODELS OF ALTMAN
Abstract
FINSIM-PRO2018 is an important component for training a financial analyst. In simulation mode the student chooses and justifies selection of the reference option of model, performs modeling on the reference option with one variable. The result of modeling is to determine the weight of input arguments in the model. It shows the importance of argument in the model. This allows the financial analyst to redistribute the resources so that the enterprise's financial stability is maintained. The final stage of teaching is - debriefing. Here the examination of simulation results is conducted by a teacher. During the debriefing, the teacher examines the work performed and conclusions made by each student (group). Analysis of the conclusions made by the students is carried out by a special program.
Downloads
Download data is not yet available.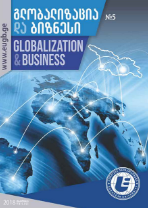 Downloads